Best Online IAS Coaching in India for UPSC Exam Preparation 2021-22
An initiative by Legacy IAS to foster learning and augment UPSC exam / IAS exam preparation efforts in these testing times of COVID-19.
Legacy IAS Academy offers A Hassle-Free Online IAS Coaching Solution for Students. Join India's Best Online Coaching for IAS/UPSC Preparation in Bangalore India Today.
A student who joins an online IAS coaching class can, later on, join the physical class, upon upgrading. Also, a student who has chosen a physical class can get access to online coaching classes.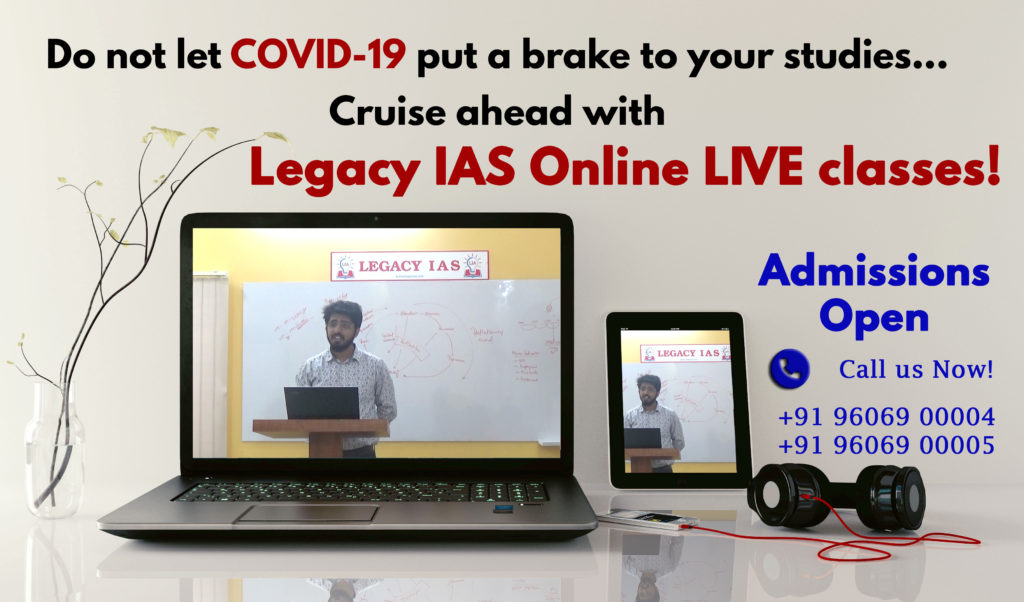 The COVID-19 has pushed the world, and India backward even as it wreaks havoc. This has proved to be a dent for many aspirants who relied exclusively on physical classes for IAS exam preparation. After enough deliberation, Legacy IAS Academy has decided to go ahead with the Live IAS online Coaching Classes to reach out to the students who need such assistance. We have come up with a solution that is almost like a physical classroom setting, yet it is virtual.
The main problem with online IAS Coaching classes is that of doubt clarification in that very instance. The Best IAS coaching in Bangalore or elsewhere would always try to incorporate the solutions that address the concerns of aspirants. Keeping that in mind, we have made sure that doubts can be raised as the session goes on. A screen that acts as a board will be in the background and the teacher in the foreground, giving a semblance of the classroom.
Quality teaching is very essential for an individual to make it through all the 3 stages of the IAS exam. Self-preparation helps, but it would be a time-consuming process. Bringing this learning experience to the doorstep of every aspirant at affordable pricing is the intent that drives us. Even if you miss a class, recorded classes will be provided on a hard disk or access would be given online to revisit that particular lecture.
Key Features of Legacy IAS Online Coaching Classes
Classes start at convenient time. The timing will be usually early in the day. This gives enough time for the aspirant to study in the rest of the day
Current Affairs analysis including The Hindu analysis will be done by evening, thus students need not go through the pangs of sifting through the entire newspaper
Highly interactive sessions: These aren't recorded classes. Students can raise queries in Live Online Coaching Classes. You need not wait for the session to get over or call them later or even text them later
High quality video classes will be streamed in real time with less consumption of Internet Data
Class notes will be provided at the end of each session in the PDF format. Also, if you need a physical copy, it will be posted to your address
Current Affairs material will be provided in PDF format on a daily basis. Also, the monthly compilation will be provided as a physical copy (through Post).
Seamless streaming of classes even with low bandwidth connections
More than 100 topic-based tests will be provided online. Also, 45 subject-wise and full length Online tests for prelims will be conducted. The links for the same would be shared with answer keys. You will also get to know the relative position based on your performance in the tests.
Answer writing practice will be started quite early in the month of July itself. All the students need to do is send across the scanned copies of their answers. They will be evaluated and sent back as scanned copies
Tests are an important part of IAS exam preparation. Hence along with prelims tests, 15 Mains tests will also be conducted. The students can visit the centre and write the test here, at Jayanagar, Banagalore or send the scanned copies of their answer sheet
Evaluations will happen in a time-bound manner – in less than 7 days
You will be a part of Whatsapp and Telegram group which includes teachers. You can ask questions at any point and get your doubts cleared
Easy switching between online course and offline course
Students are welcome to join India's best 2 way communication-oriented Live Online Class for IAS/UPSC Preparation!
Thank you!