What is the Syllabus of IAS Interview Defined by UPSC?
"The candidate will be interviewed by UPSC Board who will have before them a record of his/her career. He/she will be asked questions on matters of general interest. The object of the IAS interview is to assess the personal suitability of the candidate for a career in public service by a Board of competent and unbiased observers. The test is intended to judge the mental calibre of a candidate. In broad terms this is really an assessment of not only his intellectual qualities but also social traits and his interest in current affairs."
Personality test or IAS interview is considered as last stage in IAS Exam preparation. Every candidate wants to appear in IAS interview. Statistically, the Interview accounts for 275 marks out of a total of 2025 marks. This means it has a weightage of only 13.5% in the entire scheme of examination . However the influence of the Personality test in determining the overall rank or service allocation is more than 30%.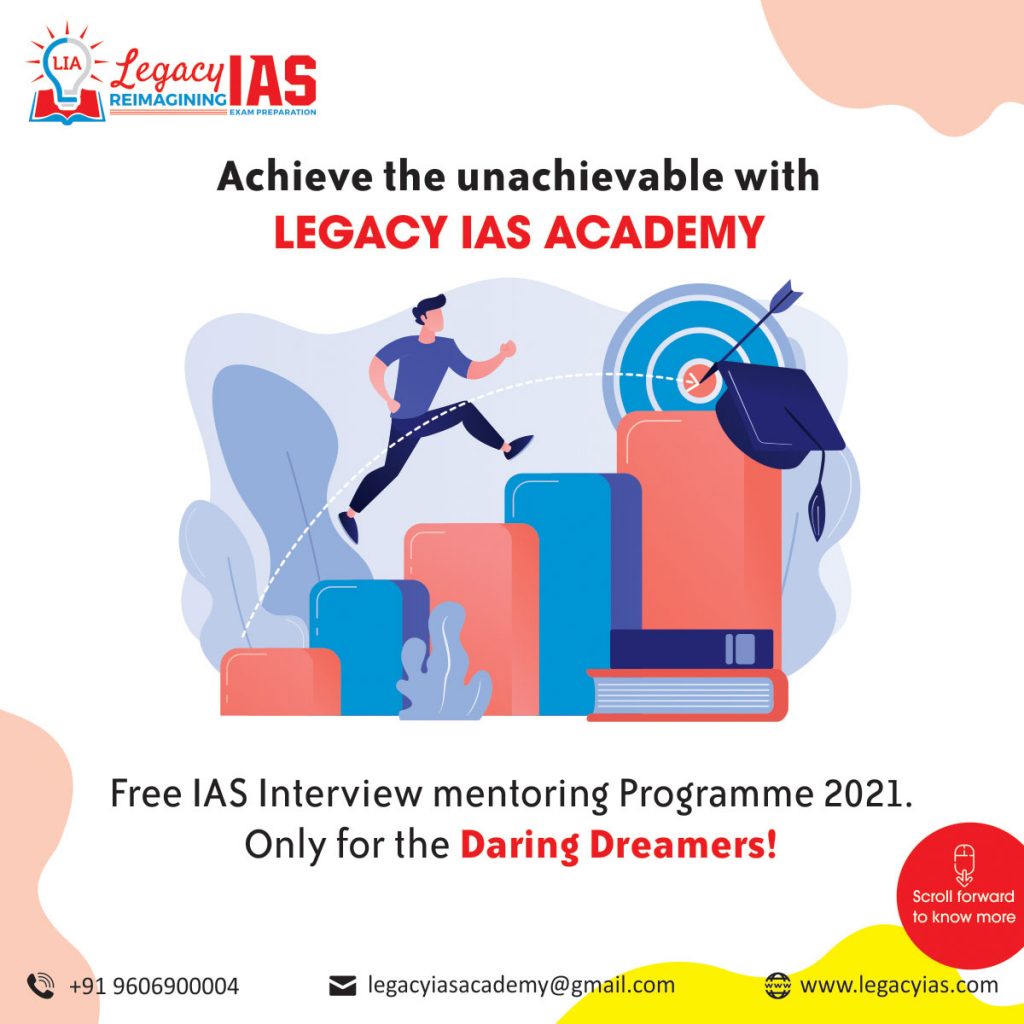 What is the importance of IAS interview?
Most of the toppers (Top 50) always have high marks in the Mains Exam as well as in interviews.
Five or ten extra marks make a big difference in the ranking of the successful candidates.
It is said that Mains Exam marks decide the selection and Interview marks decide the service allocation.
How will Legacy IAS help in the IAS interview program?
Legacy IAS is known to provide the best quality education in the field of IAS Exam preparation. We are known for our LRP program among the UPSC aspirants. We are bringing a personalized IAS Interview guidance program for 2021. We are known for the one-to-one IAS interview guidance program.
IAS Interview Guidance Action Plan
Drop-in Your DAF
DAF Based Assessment by the Experts
Interview Stage -1
Interview Stage -2
What is included in the one-to-one IAS Interview guidance program?
One-to-one Detailed Application Form (DAF) discussion
To provide the home state-specific questionnaire
To provide the home district-specific questionnaire
Help in framing hobby-related questions and answers
How to avoid giving controversial statements
How to answer basic questions like "Why do you want to join civil service?"
How to present yourself as a worthy candidate for UPSC?
How to cover current affairs for interview purposes?
How to answer opinion-based questions?
A compilation of probable questions based on your DAF
IAS Interview Guidance Stage 1
Distinctive training under the tutelage of adroit faculties
This includes,
DAF filling support
To opt cadre, service, and others.
DAF Aftermath
All plausible questions based on your DAF will be recommended.
D day
One to one deliberation of plausible questions after the candidate has done the requisite preparation.
IAS Interview Guidance Stage 2
What about personality assessment?
Legacy IAS will provide intense one-to-one personality assessment and training session by experienced experts of the field.
This includes
Recommendation on Language skills
Personality Add-ons.
Honing your cognitive thinking
Sharing of recorded videos of the session for better self – understanding
What's more in store?
Tailor-made answers for the questions that will put you in a quandary.
Enhancement of your ability to answer open-ended problems.
Flexible slots
Ameliorating the body language
All of these from the adept bureaucrats
"One who fails to plan plans to fail"
Plan and invest your time with us to turn your vision into reality.
Call 9606900004 or drop your DAF to legacyiasacademy@gmail.com to get free guidance.
Read More: IAS Interview questions Asked by UPSC Panel